Em nota publicada em seu blog, a Valve anunciou a atualização Rekindling Soul para o Dota 2. A grande novidade é o novo modelo do Shadow Fiend e a versão 6.82.
Assim como foi com Techies e outros personagens recém lançados, o novo Shadow Fiend também contará com um set arcana, o Demon Eater. Ele mudará a voz, adicionará novas animações, efeitos sonoros e visuais e gemas novas.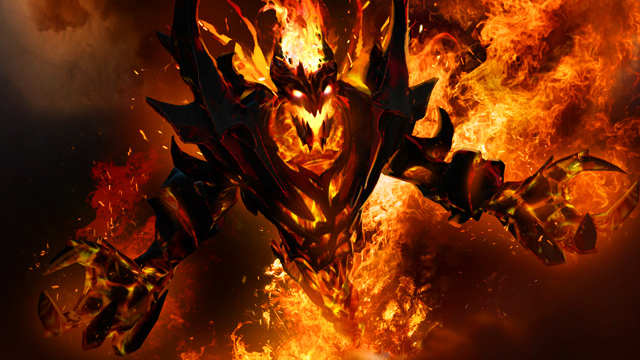 Além do novo Shadow Fiend, temos o novo baú, Treasure of The Forged Fury. Este incluirá novos sets para a Naga, Mirana, Magnus, Omniknight, um courier e mais coisas ainda não mostradas.
Ainda falando em itens cosméticos, agora toda vez um courier te entregar um item, ele se transformará por alguns segundos no seu courier preferido, mesmo que não o tenha comprado durante a partida. O nome da novidade é Courier Morph.
Já para quem curte o modo Fantasy, essa atualização abrirá as portas para a segunda temporada.
As estatísticas durante o combate também receberam um uprgade. O Fight Recap mostrará mais detalhadamente e de maneira mais bela todas as habilidades, dano causado e mudança de gold ocasionado com a batalha.
O mais importante, porém, é a versão 6.82 para o Dota 2. Ela não só traz mudanças para os personagens como adições e alterações no Roshan.
A partir dessa atualização, o ângulo o qual a área que ele fica é diferente, como mostra nessa imagem. O Aegis agora tem uma duração de cinco minutos, ao contrário dos seis minutos que era usado nas versões anteriores.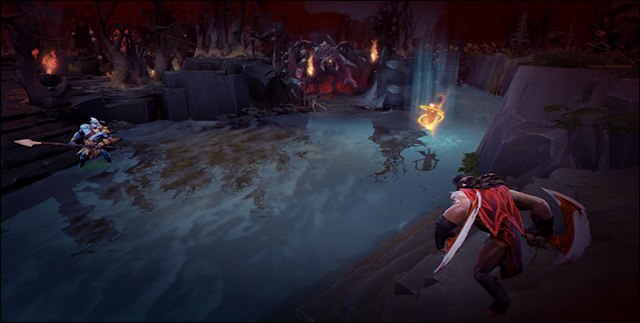 O sistema de runas também foi modificado, agora duas runas aparecem no rio a cada dois minutos. Uma delas sempre será uma Bounty Rune, uma nova runa que te dá um buff de experiência e gold por alguns minutos.
Bloodseeker e o Phantom lancer foram heróis que também sofreram grandes alterações no 6.82.
No Bloodseeker, o Bloodrage agora ao invés de silenciar e causar dano ao longo do tempo, ele amplifica todo o dano recebido e efetuado no inimigo. A duração foi modificada de 6/7/8/9 para 9/10/11/12 e o custo de mana mudou de 80 para 0.
Enquanto o Phantomlancer agora tem o Juxtapose como o seu ultimate. Com um máximo de 10 ilusões, a duração de cada uma é de 8 segundos quando criada pelo phantom lancer e 4 segundos quando criada por uma ilusão existente.
Com a mudança, Doppleganger é a sua nova hobilidade. Ao ser ativada, ela teletransporta o personagem e suas ilusões para o local e criará duas novas ilusões com duração de oito segundos cada.
Essas duas novas ilusões tem atributos especiais:
Ilusão 1: Dá 0% de dano e toma 100% de dano
Ilusão 2: Dá 20% de dano e toma 600% de dano.
Ambas com a duração de oito segundos cada.
Por fim, a última grande novidade é a Crimson Guard. O item, criado com uma Vanguard + Buckler + Recipe (total: 3850 gold) oferece os seguintes efeitos:
+ 250HP
+6 de regeneração de HP
Bloqueio de dano (80% de chance para 40/20 melee/ranged)
+5 de armor
+2 de todos os stats
Ao ser ativada, ela dá aos aliados próximo a você + 2 de armor e um escudo que tem 100% de chance para bloquear 50 de dano. O cooldown da habilidade é de 70 segundos e dura 9 segundos quando ativada.
Como podes ver, são mudanças interessantes, que estou ansioso para ver qual será a repercussão na comunidade do Dota 2.
Você pode conferir as mudanças para todos os heróis no 6.82 ao clicar na seta abaixo (em inglês):